I've been an avid mountain biker since I bought my first bike that wasn't a BMX back in early high school (a fully rigid, cro-mo Giant Yukon) but never got into the road bike thing. The only road bike I had ridden was a borrowed Bianchi Vigorelli, and it was more reminiscent of a medeival torture device than a bicycle. I knew, at least in theory, that road biking
could
be fun, but wasn't in any financial condition to get one on a par with the mountain bike I was riding.
I've since become a career bike fitter at the premier bike shop in Boulder, and I've fit road bikes to hundreds of people until I was blue in the face. It got me thinking, I should give this road biking business a more concerted effort now that I can finally afford it.
Next thing I know, I've spent the entire winter building up a Giant Defy Advanced frame from the ground up with SRAM Red and Ksyrium wheels- a sweet bike by all accounts, and I'm donning lycra and shaven legs.
I feel like I've turned to the Dark Side, but now that I've ridden it a couple times, I realize this thing can go fast- like, scary fast, and I like that about it. I also realize how road riding could turn my legs into mountain bike power houses. I like that too.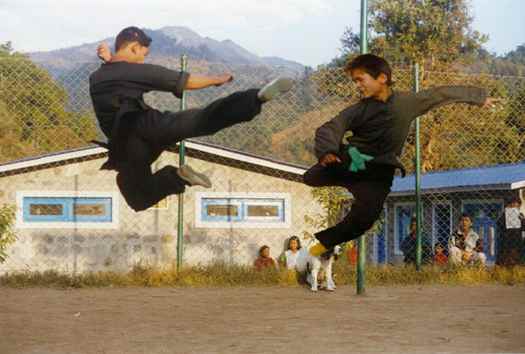 To diversify your cycling options seems to be the Boulder Way. In that sense I find that the different disciplines in cycling are analogous to the disciplines in martial arts. Road biking is like Tai Chi. It's a meditative, zen-like thing. You get out on an open stretch of road and have deep thoughts. Mountain biking, then, is like Aikido. If you don't flow with the trail and work it's contours to your advantage, you'll likely get thrown to the mat. I did Aikido in college, so of course I'm still a mountain biker at heart.
BMX and mountain bike freeriding are like Kung Fu- all high flying, in your face, acrobatics. People who see you flipping through the air like Bruce Lee respect and fear you. Riding a cruiser bike or a comfort hybrid? That's like watching Kung Fu Panda on DVD. Just sharing my opinion, that's all.
So, do I like road riding enough to keep doing it? Only as much as I like cycling enough to keep doing it. So, yes! And next year? Maybe I'll try my hand at a little Kung Fu action.
~RC